Dance Performance
THE MAGIC FLUTE    Puppeteer/Julie Taymor   Metropolitan Opera, NYC
AIDA Ballet/Egyptian woman    Metropolitan Opera, NYC
SAMSON AND DELILAH Ballet/Troglodyte Metropolitan Opera, NYC
TANNHAUSER Ballet/Vision Metropolitan Opera, NYC
TURANDOT Ballet/Turandot Attendant  Metropolitan Opera, NYC
FAUST   Ballet/Carnival dancer  Metropolitan Opera, NYC
MEISTERSINGER   Ballet/Townsperson    Metropolitan Opera, NYC
MADAME BUTTERFLY   Ballet  Metropolitan Opera, NYC
ROMEO AND JULIET   Ballet  Metropolitan Opera, NYC
AUDIO SUITE    Lamae Caparas – "Lily"  Collective Unconscious
BALLET BUILDERS     Salim Gauwloos: Two Steps Ahead  Florence Gould, NYC
DANCEBREAK   Salim Gauwloos: Tarzan   SCDF/Geof. Cohen, NYC
BALLET BUILDERS     Salim Gauwloos: Pangea  Florence Gould, NYC
JOURNEY OF INCOMING SOULS Salim Gauwloos  Ballet Arts, NYC
TEARS OF STONE    Nina Buisson    BDC Showcase, NYC
SANTA BARBARA DANCE THEATER  Company Member   Principal Dancer
OYA! BY TONIA SHIMIN Santa Barbara Art Festival, CA Soloist
UCSB STUDENT DANCE COMPANY   Company Member Soloist
AMERICAN COLLEGE DANCE FEST Bebe Miller, Joe Goode Soloist
GALA DE DANSE Conservatoire de Garches Soloist 
Musical Theater:
SHOWBOAT Chorus /Soprano  Santa Barb. Light Opera
OKLAHOMA   Chorus/Soprano Pismo Light. Opera
THE SOUND OF MUSIC  Liesel  Pismo Light Opera
Choreography
EMBODIED GODDESSES Online Dance Course embodiedgoddesses.com
THE TRAVESIA SAGRADA MAYA Festival Performance XCARET, Cancun
THE GYPSY CARAVAN StageGarden Valle de Bravo, México
THE GYPSY CARAVAN StageGarden Playa del Carmen, México
TEE OM GREE Khorikos Church of St. Anthony, NYC
Teaching/Workshops 
EMBODIED GODDESSES Goddess Dance Retreat Lago d'Orta, Italy
MATSYA YOGA Vinyasa/Goddess Yoga Vienna, Austria
XCARET DANCE COMPANY Contemporary Ballet/Modern Playa del Carmen, Mexico
CITY CONSERVATORY Children's Movement New York, New York
Film & Television
RUNWAY MOMS Lead/Model Mom Discovery Health
PROMENADE Lead/Anabelle Columbia University MFA Film
EDEN IN THE DISTANCE  Featured Xtra Columbia University MFA Film
Dance Training and Education:
Yoga Alliance Certified Yoga Instructor, Edward Ellison Ballet NYC; University of California at Santa Barbara (BA Dance); American College Dance Festival; Conservatoire Municipal de Garches/St. Cloud, Idyllwild School of the Performing Arts, Academy of Ballet San Francisco; Boston Ballet Summer Intensive
RECENT HIGHLIGHTS
Karlskirche, Wien:
      Bruckner – Windhaagermesse
      Michael Haydn Missa a 3 voci col ́ organo
      Caldara Messe in G
      Charpentier Veni Creator Spiritus
      Charles Gounod Messe brève Nr. 7
      Camille Saint-Saëns Panis angelicus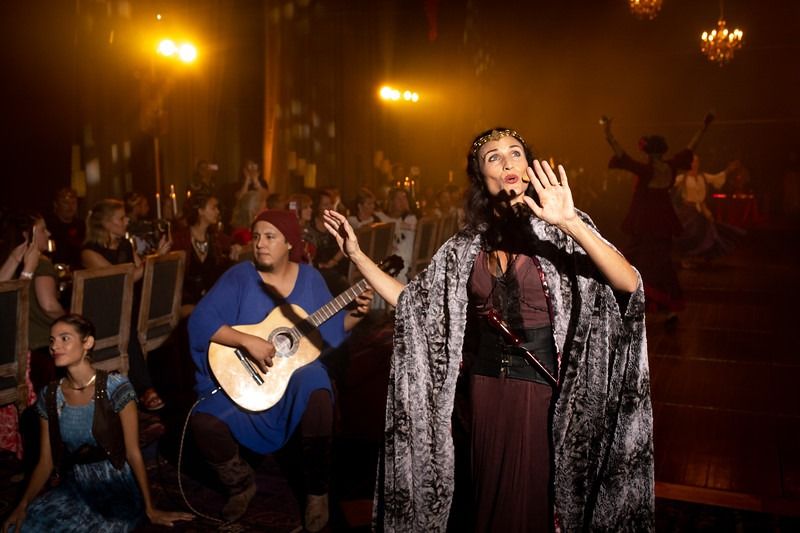 Carnegie Hall – DCINY, "A Breath of Fresh Air"
The Diamond Horseshoe, PS 122 Gala 2014 – Andrew Ondrejcak, Helga Davis, Shara Worden
Early Music at St. James, Lancaster PA – Machaut, Josquin, Palestrina
Latin American Cultural Week Littlefield, Brooklyn – Premiere "Cantos de vida nueva," Javier Farias
Prelude Festival NYC, Elebash Recital Hall – "The Kings of Macedonia," Andrew Ondrejcak, Helga Davis, Shara Worden
Roulette, NYC – "King Lavra," Jan Jirasek
Bohemian National Hall, NYC – "King Lavra," Jan Jirasek
Merkin Concert Hall , NYC – "The Geography of Loss," Robert Carl
Choral Society of the Hamptons "Pie Jesu," Andrew Lloyd Weber soprano soloist
Battle of the Boroughs, WQXR/WNYC, Jerome L Greene Space
Solo vocal performances:
Sumi Patris                Pérotin                                  Church of the Blessed Sacrament
Rose, liz                      Guillaume de Machaut      Shrine Church of St. Anthony
Via Crucis                   Franz Liszt                           Church of the Blessed Sacrament
Fear, No                      Robert Carl                          Shrine Church of St. Anthony
O Mentes Perfidas    Jaakko Mantyarvi               St. Ignatius of Antioch
Ave  Maria                 David V. Montoya                St. Ignatius of Antioch
Tee Om Gree             Vanessa Hylande                 Shrine Church of St. Anthony       
Stabat Mater             Pergolesi                                Svatovaklavsky Hudebni Fest. CZ
Inflammatus             Pergolesi                                Svatovaklavsky Hudebni Fest. CZ
Fac ut portem           Pergolesi                                Svatovaklavsky Hudebni Fest. CZ
Eja mater                  Pergolesi                                  Svatovaklavsky Hudebni Fest. CZ
Viderunt Omnes      Pérotin                                    Shrine Church of St. Anthony               
Other Choral Performances:
Vere Carmina, Shrine Church of St. Anthony
Angels and Demons, St. Ignatius of Antioch
Barclay Holiday Vocal Arts, Hotel Intercontinental, Barclay
Liszt 200th Birthday Celebration, Church of the Blessed Sacrament
Encountering An Illusion (World Prem), St. Anthony's Shrine
A Melancholy Beauty, Avery Fisher Hall
A Melancholy Beauty, Wang Theater, Boston, MA
A Melancholy Beauty (World Premiere), The Kennedy Center, Wash. DC
Cantus Immortalis, St. Anthony's Shrine
Rosa Mystica, St. Anthony's Shrine
Musica Antica, St. Anthony's Shrine
Modern Masters, St. Anthony's Shrine
KHORIKOS in Munich, Himmelfahrtskirche, Munich
Svatovaklavsky Hudebni Festival,  Czech Republic Tour, CZ
Benefit Concert for Haiti, Church of the Advent Hope
Mozart Requiem, St. Anne's Cathedral, Brooklyn
Christmas with KHORIKOS, U.N. German Consulate, NY, NY
Oya! Seuqence #2, Santa Barbara Art Festival     
Show Boat, Granada Theater, Santa Barbara, California
Oklahoma, Pismo Light Opera Theater     
Education and Training
Janet Steele, CUNY New York, NY, USA
Private Vocal Coaching – Jolle Greeneaf, Tenet, NYC, USA
Audition Workshop for Singers – Jane Seaman and Eddy Rabin, NYC, USA
University of California, Santa Barbara – Dept of Music (Mel Foster), California, USA
Conservatoire Municipal de Garches, St. Cloud, France
Idyllwild School of Music and the Arts, California
EMPLOYMENT HISTORY
(6/ 2021 – Present) Co-Founder Embodied Goddesses Online Embodiment Through the Arts Course
(6/2018 – Present) UPWORK – Grants and WordPress Content Writer
(5/2015 – 6/2016) CITY CONSERVATORY – a performing arts school for young children
Co-Founder and CEO:

managed start-up and implementation of programs. Wrote curriculum, hired and trained teachers, secured partnership with New York City Sports Clubs to host programs. Handled all branding, marketing, student registrations, parent communications, scheduling, accounting, payroll and all day to day business.
(11/2010 – 6/2016) DORIAN ARTISTS CORP – an internationally touring a cappella ensemble, KHORIKOS
Executive Director:

produced over 40 concerts in Manhattan and abroad including an international tour; developed a successful brand through creation of cutting edge marketing materials, use of social media and online tools; tripled audience attendance and ticket sales; made organization financially solvent through earned income opportunities; developed strategic partnerships which garnered invitations to perform at prestigious venues such as Lincoln Center, Kaufmann, The Jerome L. Greene Space; created the organization's prominent online media presence by producing videos, audio CDs and collaborating with strategic partners. 
(6/2008 – 10/2010) HARLEMLIVE – an after-school youth media and journalism program serving at-risk teens
Executive Director

:

Transformed non-profit from a small volunteer endeavor to a fully funded, staffed organization; increased the organization's revenue stream ten-fold; procured over $300,000 in grant funds; wrote and implemented first successful strategic plan; established first system for measuring impact; formalized the board of directors with committees and targeted initiatives; developed strategic partnerships with CNN, Thomson Reuters, AOL, Bloomberg, Ford and others. Established a significant presence in social media; re-designed the website to state of the art site.

Capacity Building Consultant

:

wrote first strategic plan, which successfully gave the organization clear direction and protocols; established major funders for the non-profit (Ford, Bloomberg); implemented the organization's first CRM for development of its individual donor pool. 
(9/2004 – 6/2008) METROPOLITAN OPERA BALLET – a home for the world's most creative and talented artists 
Ballet Dancer:

performed in six seasons of the Metropolitan Opera, including but not limited to performances of Turandot, Aida, Magic Flute, Romeo and Juliette, Tannhauser, Samson and Dalilah, Faust, The Last Emperor, Meistersinger.  Also performed for live HD productions.
(09/2000 – 7/2002) COUNCIL ON FOREIGN RELATIONS – an independent, nonpartisan membership organization, think tank, and publisher
Coordinator:

Public Health and Bio-Terrorism sub-group
Dr. Margaret Ann Hamburg (Chair), General Charles Boyd (Project Director), Liaison to Washington D.C. Office
Terrorism Task Force Staff

– Task Force on America's Response to Terrorism
Ambassador Richard Holbrooke (Co-Chair), Secretary Carla A. Hill (Co-Chair)
Research Associate:

Homeland Security, U.S. Policy in the Middle East, Aid and Reconstruction in Afghanistan

Research Associate:

Africa Studies – Mahesh Kotecha, Structured Credit International (President); Visiting Fellows: Calvin Sims, New York Times; Guillermo Christiansen, (CIA)

Editorial Assistant:

Foreign Affairs Magazine
issue related tasks, stand-in for assistant to the editor when on leave, assistant to internship coordinator
EDUCATION
1999 UNIVERSITY OF CALIFORNIA, SANTA BARBARA, GPA: 3.7
B.A. Degree

With Honors

in Political Science

B.A. Degree in Dance

International Relations Emphasis

German Minor

Honors Thesis:

"Political Forgiveness: The Truth and Reconciliation Commission of South Africa and Lustration in the Czech Republic
HONORS AND ACTIVITIES
UCSB Lambda Chapter of Phi Beta Kappa

Golden Key National Honor Society

UCSB Political Science Department's Honors Program

Multiple Times on the Dean's List for Scholastic Excellence

Studies at the Central European University: Budapest, Hungary
SPECIAL SKILLS WordPress, Divi, Canva, Video editing, Logic Pro X, Copyright and trademarking, LLC Formation, Website design and build, HTML, CSS, basic RoR, designed user experience for 5 websites, Microsoft Office, Quickbooks, Members Only, Salesforce, Adobe Photoshop and InDesign, Joomla, Facebook, Twitter management.  Fluency and writing proficiency in German and French Language. 
"Vanessa's work with the Council's Terrorism Task Force has been excellent.  Our work has been quite challenging, and Vanessa has been more than up to the task.  She takes the initiative to identify and complete tasks on her own; aggressively solves issues before they become problems; is persistent in overcoming obstacles to completing tasks; proposes good solutions to new, problematic situations; and keeps me well informed on the status and progress of her many tasks.  I could not have requested a more competent, pleasant and efficient co-worker." – Colonel Philip Rudder, USMC, Council on Foreign Relations